ANNOUNCING-ON SITE SEWING MACHINE MAINTENANCE AND REPAIRS. Here's an idea for you...When you take your break at Christmas from sewing - why not bring your machine into Shabby Rose Quilting & Sewing Cottage so we can maintain it and then you will be ready for the January 1st starting time to sew again? We are ready for you! You may bring it in sooner if you would like. Just know that we are ready to service your machine!

RETREAT - Yet another Christmas present you deserve! Tell your person(s) you want to attend our retreat in Worldmark Resort Oceanside, CA. Feb 6th thru Feb 9th, 2023. Space is limited so reserve quickly. Type Retreat in the Search bar on this website and get yourself registered or come in and see us and we will help you.

Come and join us for our quarterly QUILT TIL U WILT - Saturday, April 14th from 9 am to 11:30 pm (If we can make it that long) This is a solution to acting like you are getting all of those projects FINISHED!!! We have such a great time together and welcome all to attend. Our limit is 20. YES, I can make 20 fit in this little shop.... Trust me!!!! $10

Fab Shop Hoppers Clue: We would love for you to join us for our classes. SHOP with us 570 times a (sewing machine)! SCROLL DOWN
Thank you for visiting our site. We hope you will be able to conveniently search for what you are looking for. Please be sure to let us know if you need any assistance.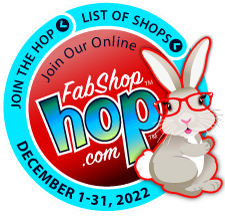 SEWING MACHINES.... 25% off our Elna brands. Come in and try one out... We can order before Christmas, however, we cannot promise a Christmas delivery. Tell your person....you want a sewing machine.. we will collude with them to get you what you want. :D

GIFT CARDS - We have the never expiring gift card. Get that someone that extra special gift that only they can choose.

Millie, Millie, Millie has been excited for you to LONG ARM. Certify and quilt your own precious projects. Time for rentals is filling quickly, so be sure to schedule ahead. If you haven't taken this course yet, maybe this is the Christmas gift you would prefer. Tell your person..... we will help them get you just what you desire!

Be sure to check out Ms. Nancy's Jean Quilt. Place your deposit for this class which will be in January 2023. Save your jeans. Youth 12 and up along with adults are invited to this class. $30 Jan 21, 2023 Sign Up online.

Now is a great time for sit-n-sew groups to schedule their own personal time. There is NO charge to sit together and sew in the Cottage. Schedule your date and time by calling us at the shop.

Youth Sewing Class every Tuesday from 3:30 to 5 for only $15. Bring your child to sew with us. They will learn amazing skills.

Until then, have you seen our new products? Look online or come in and see what's new. Need your Scissors Sharpened? Drop them off at the Cottage and we will get it handled for you. One-week turnaround time.